Orthopedics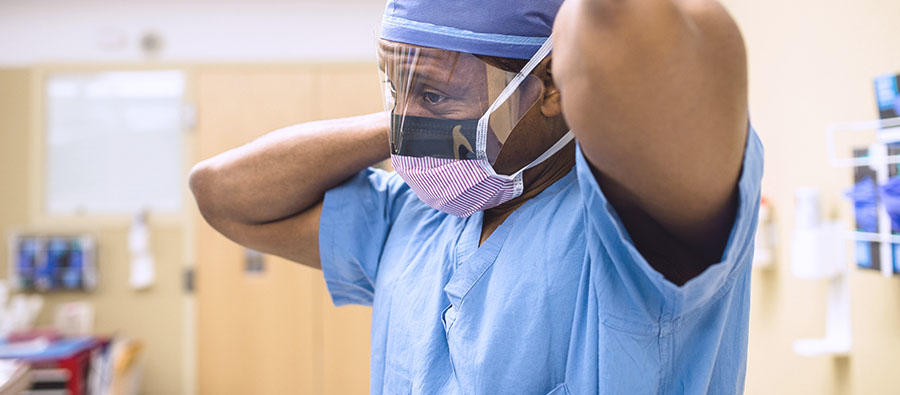 We are here to help you find what you need.
Holy Family Hospital is proud that it was the first Center for Orthopedic Excellence in the Commonwealth of Massachusetts. The Joint Commission granted this certification based on our positive patient outcomes, infection control practices, team approach to patient care, and the advanced training of our surgeons and staff. We are also nationally recognized by Blue Cross and Blue Shield of Massachusetts as a Blue Distinction Center® Plus for excellence in hip and knee replacements.
Certified Surgeons &  Accredited Orthopedic Department at Holy Family Hospital
Welcome! Thank you for your interest in the Center for Orthopedic Excellence at Holy Family Hospital. We work hard every day to ensure that you are safe and protected.  Our hospital and surgical suites are cleaned using a 51-point checklist and all operating rooms have a special air filter that cleans the air from contaminants of all types. Every patient must have a COVID19 test before being admitted for surgery, and social distancing and masking are in effect 24/7. You can rest assured that you will receive care from a team of specialty trained clinicians and staff dedicated to your safety.
At the Center for Orthopedic Excellence we offer private rooms, specialized education before your procedure, board certified orthopedic surgeons, advanced level practitioners, specially trained RNs, and a team that cares for you before, during and after surgery.  We have more than two dozen board certified, fellowship trained orthopedic surgeons who conduct minimally invasive surgery for the best outcomes. They will create an individualized care plan for you with the goal of reducing your pain, improving your range of motion, and giving you the best quality of life possible.
Three orthopedic practices are affiliated with Holy Family and perform their surgeries here. These practices offer board certified orthopedic surgeons with decades of experience in knee, hip, shoulder and upper extremities. The practices are:
Associates in Orthopedics in North Andover, Massachusetts
Essex Orthopeadics and Optima Sports Medicine in Salem, New Hampshire
Orthopaedics Northeast in Andover, Massachusetts
Assessing your individual needs
As a patient, it's important to know that our orthopedic surgeons will first try to develop non-surgical solutions to address your needs. If surgery does turn out to be necessary, our orthopedic surgeons and Center staff will educate you on the procedure and the recovery process. As you attend Joint Class, you will be thoroughly educated about what to expect before, during, and after surgery. We will tell you about preparing for surgery, pain management during and after surgery, and recovery. Our goal is to help you regain mobility as quickly and painlessly as possible.
Sports Medicine/Bone and Joint Care
There are many surgical treatments available. Your surgeon will explain your options and together you will decide which one is best for your condition and overall health. Our highly qualified surgeons are skilled at:
Total joint replacement for the knee, hip and shoulder
Advanced anterior hip replacements
Partial knee resurfacing
Mako™ Robotic-Arm Assisted Surgery for Joint Replacement
Other minimally invasive techniques
MakO™ Robotic-Arm Assisted Surgery
Holy Family Hospital is home to the most experienced Mako team in the region. Holy Family Hospital was the first hospital in the Merrimack Valley to provide Mako Partial Knee and Mako Total Hip replacement procedures for patients suffering from early- to mid-stage osteoarthritis of the knee and hip.
Anterior Hip Replacement
Our surgeons are among a select few in Massachusetts who conduct anterior hip replacements. This approach can mean less pain and faster recovery.  Done from the front of the hip, they can also mean less muscle trauma and discharge home in as few as 24 hours.
Spine Surgery
Our team of orthopedic spine surgeons and neurosurgeons are specially trained in non-operative therapies, as well as advanced surgical techniques. They offer minimally invasive procedures for symptoms of back pain to spinal injuries and disorders. The team includes physiatrists, physical therapists and pain management specialists.
Treatment is available for many conditions, including:
Back and neck pain
Degenerative disc disease
Degenerative spondylolisthesis
Fractures
Injuries resulting from trauma, work-related accidents
Osteoporosis and compression fractures
Spinal deformities (scoliosis and kyphosis)
Sports injuries
Our experienced spine surgeons are skilled in many procedures, including minimally invasive techniques, which provide faster recovery, less discomfort and fewer complications for our patients:
Anterior cervical disc excision and fusion
Artificial disc replacement
Hydrodiscectomy
Kyphoplasty
Laparoscopic anterior lumbar interbody fusion
Lumbar laminectomy
Microdiscectomy
Minimally invasive lumbar fusion
Posterior lumbar instrumented fusion
Expert Hand and Upper Extremity Care
Our orthopedic surgeons treat a variety of hand and upper extremity issues including trauma, repetitive motion injuries, nerve injuries, rheumatoid arthritis and osteoarthritis. In the majority of cases we use non-invasive or minimally invasive surgical options, such as endoscopic surgery. This approach significantly reduces recovery time and enables patients to start physical therapy sooner.
Sports Medicine
Our sports medicine physicians have extensive experience in sports medicine, treating professional, collegiate, school-age, and amateur athletes. We stay up-to-date on the latest non-invasive and surgical techniques and treatments for all types of sports injuries including:
Shoulder rotator cuff injuries
Tendon injuries
Ligament injuries
We also offer arthroscopic (minimally invasive) surgery to repair anterior cruciate ligament (ACL) knee injuries.
Orthopedic Care, Where You Want It, When You Need It
Call the practice nearest you for more information on orthopedic and sports medicine services, or to schedule a private consultation.