Cardiovascular Medicine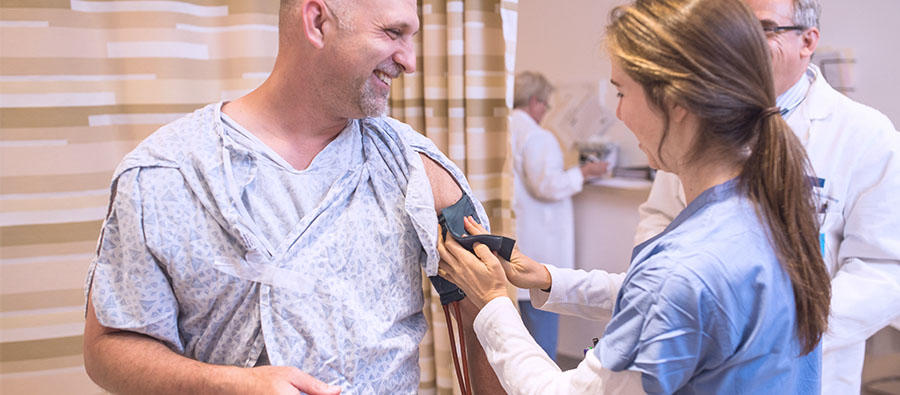 We are here to help you find what you need.
At Holy Family Hospital, our expert cardiovascular care team consists of highly trained, board-certified physicians, surgeons, nurses, and support specialists who provide advanced diagnostic and therapeutic procedures for treating a variety of cardiovascular diseases and conditions.
Their commitment to personal and compassionate care has led them to practice in the Merrimack Valley where they are providing patients with convenient access to specialized care and sophisticated treatment options.
Services include:
Cardiac rehabilitation
Cardioversion
Coronary angiography
Electrocardiogram
IABP (intra-aortic balloon pump) Insertion
Multigated acquisition scan
Non-invasive testing for vascular disease
Nuclear imaging
Pacemaker and defibrillator implants and insertions
Percutaneous coronary intervention (PCI)
Pericardiocentesis
Thrombolytic therapy for acute arterial or venous thrombosis
Stress testing
TTE (Transthoracic Echocardiogram)
TEE (Transesophageal Echocardiogram)
Participants involved in the rehabilitation program have the opportunity to interact with many disciplines
within the health care team:
• Medical Director – The program is under the direction of a board certified cardiologist.
• Nurses – Experienced in critical care, cardiac assessment, education, and Advanced Cardiac Life Support (ACLS).
• Exercise Physiologists – Experienced in conditioning and educating clients with cardiac disease.
• Registered Dietitians and Social Workers – Team members that provide educational lectures and individual consults.
• Client – The client is an active participant in defining goals and implementing plans to enhance healthful living.
CLICK HERE
 for the Holy Family Hospital Cardiac Rehabilitation Brochure in English.  
HAGA CLICK
para el folleto en español acerca de la rehabilitación cardiaca en el hospital Holy Family.  
For more information about Cardiac Rehabilitation at Holy Family Hospital, please contact the program coordinator
at (978) 687-0156, ext. 2385.
Resources
Embracing Life After A Heart Attack

Cardiac rehabilitation is a comprehensive exercise, education, and behavior modification program designed to improve the physical and emotional condition of patients with heart disease

Detecting Coronary Artery Disease In Women

Whether you are healthy or at risk for coronary artery disease it's important to be mindful of the steps you can take for your health today, and into the future.

Detecting Coronary Artery Disease

Understanding the differences in symptoms men and women experience. Taking action to prevent coronary artery disease begins with understanding your risks and symptoms and a commitment to adopt healthy habits.