Sports Medicine & Outpatient Rehab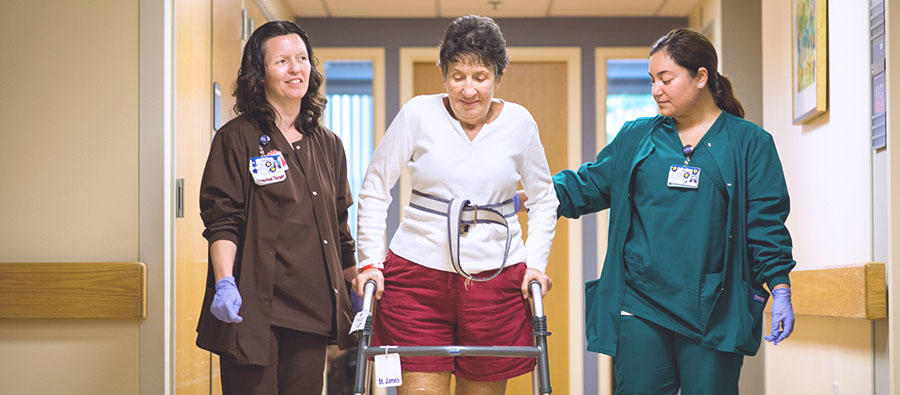 We are here to help you find what you need.
The Orthopedic Excellence specializes in diagnosing and treating injuries related to exercise and sports at all levels. Our goal is to return you to the activities you love.
Sports Medicine & Rehabilitation at holy Family Hospital
A multidisciplinary team of physicians and rehabilitation specialists work with patients, schools, and colleges to assist with advanced diagnostic and treatments, whether the condition is acute or chronic. While care is focused on the individual, Holy Family is available to consult with coaches to keep their teams as healthy as possible.
Specialties include:
Acute injuries, such as ankle sprains, muscle strains, knee, and shoulder injuries and fractures
Overuse injuries, such as tendonitis and stress fractures
Mild traumatic brain injury and other head injuries
Athletes with chronic or acute illness (such as infectious mononucleosis, asthma, or diabetes)
Nutrition, supplements, ergogenic aids, and performance issues
Exercise prescription for patients who want to increase their fitness
Injury prevention
"Return to play" decisions for sick or injured athletes
Strength training and conditioning
Inpatient and Outpatient Rehabilitation Services at Holy Family Hospital
Methuen Campus Services: 
Inpatient Rehabilitation Services; physical therapy, occupational therapy 
70 East Street 
Methuen, MA 01844
978-687-0156, ext 2351
Outpatient Rehabilitation Services; physical therapy, occupational therapy, certified hand therapist (CHT) 
Medical Office Building (across from main hospital building)
60 East Street, 3rd floor, Suite 3100
Methuen, MA 01844
978-687-0156, ext 2050 
Haverhill Campus Services: 
Inpatient rehabilitation services; physical therapy, occupational therapy 
140 Lincoln Avenue
Haverhill, MA 01830
978-374-2000,ext 8741
Video recorded pre-COVID19