Mako™ Robotic-Arm Assisted Surgery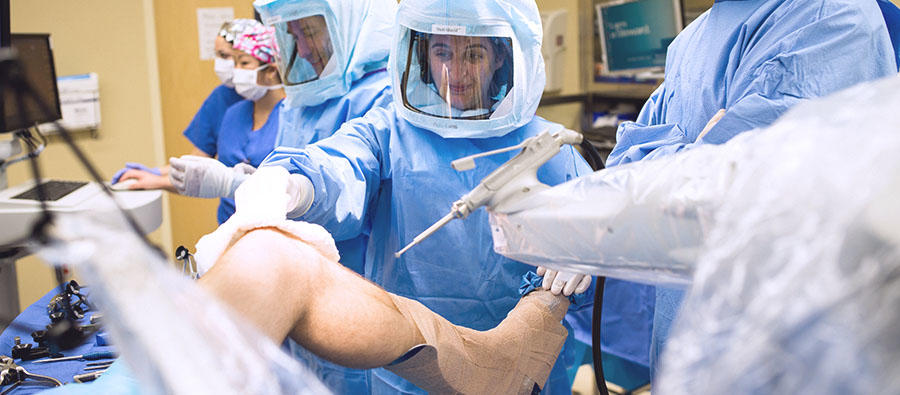 We are here to help you find what you need.
Holy Family Hospital is home to the most experienced Mako™ team in the region. Holy Family Hospital was the first hospital in the Merrimack Valley to provide Mako™ partial knee and total hip replacement procedures for patients suffering from early- to mid-stage osteoarthritis of the knee and hip.
For patients, these state-of-the-art treatments provide an alternative option to traditional hip and knee replacement surgeries and can provide the following benefits.
Mako Partial and Total Knee
Less implant wear and loosening
Joint resurfacing
Bone sparing
Smaller incision
Less scarring
Reduced blood loss
Shorter hospitalization
Rapid recovery
More natural feeling knee following surgery
 
Video recorded pre-COVID19 
These procedures are performed by our specialty trained Mako-certified orthopedic surgeons in our award-winning Center for Orthopedic Excellence.
Mako Total Hip 
Accurate placement of the hip implant.
More consistency in the leg length, potentially decreasing the need for a shoe lift.
Dec

 

reased risk of the implant and bone abnormally rubbing together. This may improve the lifetime of the implant.
All Mako procedures are performed at our Methuen campus, which has also earned The Joint Commission's Disease-Specific Certification for Hip and Knee Surgeries and is nationally recognized by BlueCross and BlueShield of Massachusetts as a Blue Distinction Center® Plus for excellence in hip and knee replacements.