Cardiac & Vascular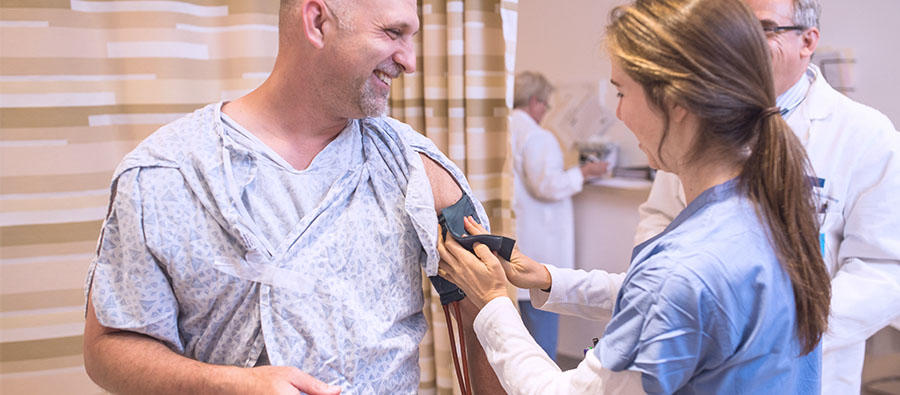 We are here to help you find what you need.
Holy Family Hospital's cardiac and vascular care team is dedicated to helping patients faced with heart failure or who wish to minimize their risk for heart conditions, circulatory problems and cardiovascular disease.
Reliable Cardiovascular Health Care & Rehabilitation Services
 
From the first comprehensive clinical cardiac consultation through advanced diagnostic testing and sophisticated treatment options, our expert clinicians provide compassionate care and utilize high quality, advanced technology to accomplish your health goals.
At our Methuen campus, heart attack victims have access to angioplasty 24/7 at our state-of-the-art cardiac catheterization lab staffed by specially trained registered nurses and technicians. Elective coronary angioplasty is also an option. 
Our cardiac rehabilitation program, also located in Methuen, has repeatedly earned accreditation by the American Association of Cardiovascular and Pulmonary Rehabilitation (AACPR).
Each campus provides 24-hour monitoring of cardiac patients in a Telemetry unit, offers a certified stroke program, and participates in the National Stroke Center's quality and outcome studies.
Cardiac Conditions treated at Holly Family include:
Coronary artery disease
Congestive heart failure (CHF)
Arrhythmia
Peripheral vascular disease
Stroke
What is Cardiac Rehabilitation?
The concept that many people with heart disease can attain a healthier lifestyle is the basis of the cardiac 
rehabilitation program at Holy Family Hospital. Cardiac "rehab" involves progressive exercise conditioning sessions,
supplemented with education and support to create the balance that will encourage a more positive lifestyle.
The Team
Participants involved in the rehabilitation program have the opportunity to interact with many disciplines
within the health care team:
• Medical Director – The program is under the direction of a board certified cardiologist.
• Nurses – Experienced in critical care, cardiac assessment, education, and Advanced Cardiac Life Support (ACLS).
• Exercise Physiologists – Experienced in conditioning and educating clients with cardiac disease.
• Registered Dietitians and Social Workers – Team members that provide educational lectures and individual consults.
• Client – The client is an active participant in defining goals and implementing plans to enhance healthful living.
CLICK HERE
 for the Holy Family Hospital Cardiac Rehabilitation Brochure in English.  
HAGA CLICK
para el folleto en español acerca de la rehabilitación cardiaca en el hospital Holy Family.
For more information about Cardiac Rehabilitation at Holy Family Hospital, please contact the program coordinator
at (978) 687-0156, ext. 2385.