Pulmonology and Thoracic Care
Pulmonology and Thoracic Care
Pulmonology and Thoracic Care
Pulmonology and Thoracic Care
The Center for Advanced Thoracic and Pulmonary Care at Holy Family Hospital
Pulmonology and Thoracic Care
The Center for Advanced Thoracic and Pulmonary Care at Holy Family Hospital
978-687-0156, ext. 2020.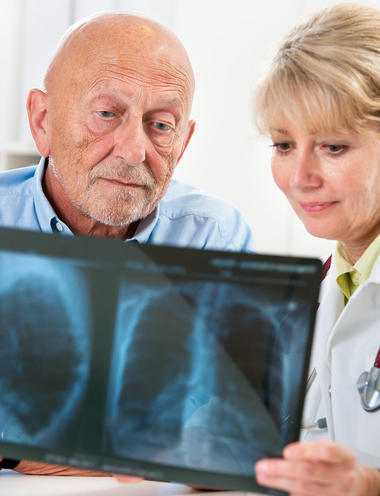 Pulmonary & Thoracic Treatments Available at Holy Family Hospital
Our team of pulmonary, critical care, sleep medicine specialists, and thoracic surgeons work together to addresses multiple debilitating conditions, including shortness of breath, asthma, chronic obstructive pulmonary disease (COPD), pulmonary fibrosis, bronchitis, emphysema, and interstitial lung disease, as well as lung and thoracic cancers.
Our team is dedicated to improving the quality of life of our patients. Our program provides treatment for:
Asthma
Bronchitis
Emphysema (COPD)
Pneumonia
Lung cancer
Sarcoidosis
Tuberculosis
Pulmonary fibrosis
Advanced Obstructive Lung Disease
Interstitial Lung Disease
Occupational Lung Disease
Pulmonary Hypertension
Thoracic Cancers
Pleural Diseases
In addition, our physicians offer programs in:
Critical Care/Respiratory Intensive Care
General Pulmonary Medicine
Interventional Pulmonology
Microwave Ablation for Pulmonary Nodules
Respiratory Therapy
Pulmonary Function Testing
Sleep Medicine
Low-Dose Lung Cancer Screenings
Holy Family Hospital in Methuen and Haverhill now provides advanced lung cancer screenings for adult patients who are current or former smokers, and considered at high risk for developing lung cancer.
The new screening method, called Low-Dose CT, uses state-of-the-art computed tomography (CT) to look for signs of lung cancer before there are symptoms. Low-Dose CT takes detailed pictures of the lungs to detect potentially treatable lung cancers that are often too small to be detected with an x-ray. When lung cancer is detected at an early stage, success rates for treating the disease are much higher. Holy Family Hospital's lung cancer screening program, managed in conjunction with the Department of Diagnostic Imaging, offers patients access to the lowest-dose CT scans in the region.
CLICK HERE for more information
Breathing-related Sleep Disorders
Holy Family Hospital also specializes in the evaluation and treatment of patients with breathing-related sleep disorders such as sleep apnea. Our Center for Sleep Medicine is equipped with a complete sleep laboratory and staffed by a multidisciplinary team of sleep experts who provide comprehensive evaluation and treatment plans. The laboratory provides technical support, including a full range of pulmonary function testing, bronchoprovocation testing and blood gas analysis.
Expert Diagnosis, Treatment and Surgical Care for Thoracic Disorders
In the Center for Advanced Thoracic and Pulmonary Care, our team provides high quality medical and surgical care, utilizing the latest technology, for patients with a variety of thoracic disorders.
We provide access to the full spectrum of advanced techniques, including video-assisted thoracic surgery (VATS), bronchoscopy and endoscopy.
Holy Family Hospital physicians have access to highly trained and experienced Steward Health Care physicians from multiple specialties, including pathologists, pulmonologists, radiation oncologists, gastroenterologists, interventional radiologists, and Dana-Farber Community Cancer Care's medical oncologists, for a multidisciplinary approach to thoracic disorders as well as comprehensive, fully integrated care
Our compassionate, skilled and experienced team performs the latest surgical and minimally invasive procedures, and our advanced treatments promote faster healing rates and better outcomes including:
Minimally invasive video-assisted thoracic surgery (VATS), useful for the treatment of:


Lung nodules
Lung cancer
Collapsed lung
Esophageal cancer
Chest (mediastinal) masses
Mesothelioma

Minimally invasive management of:


GERD
Hiatal hernia
Esophageal conditions
Swallowing difficulties

Airway conditions, including:


Tumors
Stricture or stenosis of the larynx and trachea
Collapsing ("malacia") of the trachea and bronchus