Occupational/Hand Therapy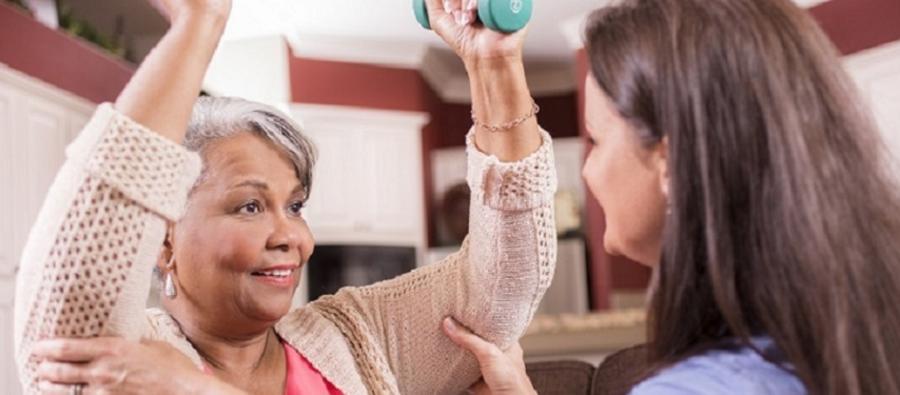 We are here to help you find what you need.
Holy Family Hospital's Rehabilitation Services Department offers programs tailored to meet each patient's needs. We provide occupational/hand therapy with a certified hand therapist, physical therapy and speech therapy to residents in Methuen, Haverhill, Lawrence, North Andover and Andover, as well as the Merrimack Valley and southern New Hampshire region.
Occupational & Hand Therapists at Holy Family Hospital
Our occupational therapist and certified hand therapist work as part of a team that includes the patient, family members and physicians in order to provide individualized care designed to improve quality of life and maximize function for each patient.
In Methuen, we are conveniently located at 60 East St. on the third floor of the Medical Office Building next to Holy Family Hospital's Methuen campus.  In Haverhill, we are conveniently located at 62 Brown St. in Suite 402 of Merrimack Medical Center, the Medical Office Building attached to Holy Family Hospital's Haverhill campus. Both sites offer plenty of convenient and free parking.
Our services include:
Occupational/Hand Therapy Program with a Certified Hand Therapist (Methuen only)
-Upper Extremity Fractures and Sprains
-Custom Made Splinting
-Neurological Conditions including Post-Stroke Fine Motor Rehabilitation
-Tendon, Nerve, Ligament and Vascular Repairs
-Replants, Tendon Transfers and Reconstructions
-Amputations
-Carpal Tunnel Syndrome and Releases
-Ulnar Neuropathies and Releases
-Arthritic Conditions including Osteoarthritis, Rheumatoid Arthritis and Fibromyalgia
-Tendonitis and Tenosynovitis
Speech Therapy Outpatient Programs (Methuen only)
-Adult and Adolescent Swallowing Disorders
-Post-Laryngectomy Care
-Cognition Disorders Including Memory Deficits and Reading/Auditory Comprehension   
-Voice Therapy
-Adult Language/Aphasia Disorders
-TMJ Disorders
Physical Therapy Programs (Methuen and Haverhill)
-Adult and pediatric orthopedics
          -spine and joint treatment
          -sports related injuries
         - soft tissue injuries
         - joint replacement rehab
-Work-related injury management
-Osteoporosis
-Myofascial pain and headache reduction
-Pelvic Floor Dysfunction
-Arthritic conditions, which includes osteoarthritis, rheumatoid arthritis and fibromyalgia
-Lymphedema
-Balance and vestibular disorders