Neurosciences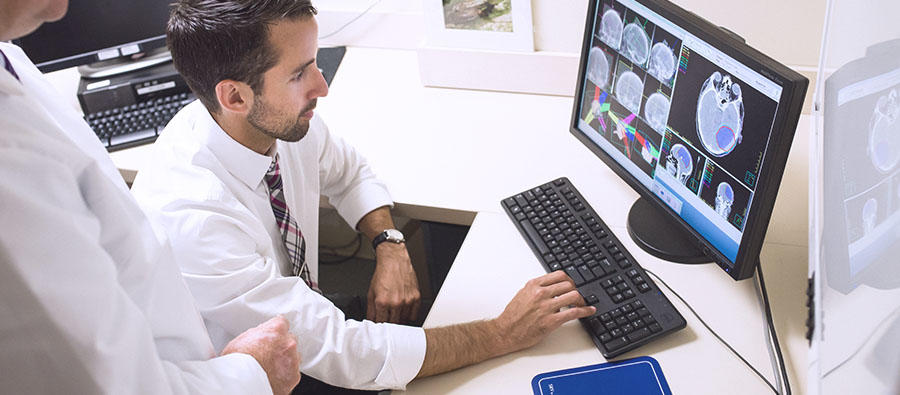 We are here to help you find what you need.
Holy Family Hospital is proud to partner with New England Neurological Associates, P.C., the largest private practice neuroscience medical group in the eastern United States, to provide patients with access to extensive and sophisticated neurosciences capabilities that are typically offered only in urban, teaching hospitals.
Neurosciences Department at Holy Family Hospital
More than a dozen clinical experts are treating delicate conditions with some of the most precise procedures such as stereotactic neurosurgery, radiosurgery, brain surgery, pallidotomies, thalamotomies and deep brain stimulator implants at Holy Family Hospital's Methuen campus.
The practice also offers a Parkinson's disease surgery program that is credentialed by Blue Cross Blue Shield of Massachusetts as a Center of Excellence.
Holy Family Hospital's Emergency Departments in Methuen and Haverhill have both earned the distinction of New England Regional Stroke Centers. The Methuen center is equipped to allow physicians to collaborate with Massachusetts General Hospital neurologists through a secure videoconferencing network allowing for "virtual" bedside neurological evaluations that can be imperative for administering time-dependent treatments such as the FDA-approved medicine tPA, When administered within three hours of the onset of a stroke, this medicine can help reverse its devastating effects.
Together, our multidisciplinary team provides comprehensive services including:
Neurosurgery
Orthopedic spine surgery
Neurology
Physiatry (physical medicine and rehabilitation)
Pain medicine (available at the Methuen and Haverhill campuses)
Rheumatology
Psychiatry/psychology
Resources
The Most Advanced Brain Tumor Surgery North of Boston

With cutting-edge technology and high-tech medicine, Holy Family Hospital is revolutionizing neurosurgery close to home. Holy Family is the only hospital in the region with a high field strength MRI, which provides images with great detail, which is crucial for intricate brain surgery.