Gynecology Services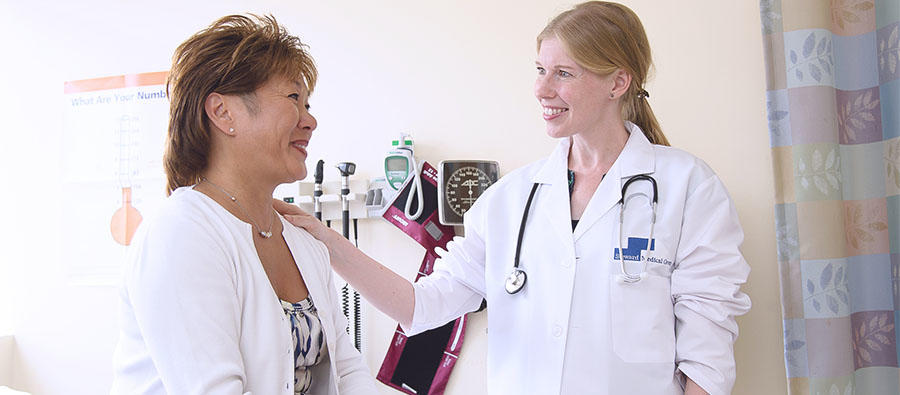 We are here to help you find what you need.
From adolescent to beyond menopause, Holy Family Hospital's highly qualified team of board certified gynecologists, obstetricians, radiologists and surgeons provide the highest quality health care to women in need of services that range from routine annual screening tests, to treatment of more complex conditions that may require minimally invasive surgical procedures.
Gynecology Clinic at Holy Family Hospital
Care begins with routine gynecologic exams beginning at the age of adolescence and continues beyond treatment of menopausal symptoms. For unplanned and unexpected conditions such as pelvic floor disorders and abnormal uterine bleeding, our highly trained specialists offer the most advanced minimally invasive surgical options such as laparoscopic hysterectomy and endometrial ablation, which allow for faster recovery and less pain.
Gynecology Services provided include:
Treatment of menopausal symptoms and related disorders
Counseling and treatment for specific gynecologic disorders
Conditions treated include:
Abnormal uterine bleeding
Chronic pelvic pain
Endometriosis
Fecal incontinence
Pelvic organ prolapse
Urinary stress incontinence
Uterine fibroids
Resources
Several Conditions Can Cause Pelvic Pain

When pain occurs in the lowest part of the abdomen and pelvis it is called pelvic pain. It can arise from the digestive, reproductive or urinary systems, as well as muscles, connective tissue and nerves within the pelvis.

Are You Affected By Heavy Menstrual Bleeding?

If you are avoiding social events or missing work because of heavy menstrual bleeding, a procedure called uterine ablation could be an option because it helps stop abnormally heavy uterine bleeding in 90 percent of women.

Is it Stress, Hyperthyroidism or Menopause?

Thyroid disease comes in different forms: diseases of thyroid function and nodules of the thyroid gland. For diseases of thyroid function, the gland can produce too much thyroid hormone, which is called hyperthyroidism, or too little, which is called hypothyroidism.