Endocrinology/Diabetes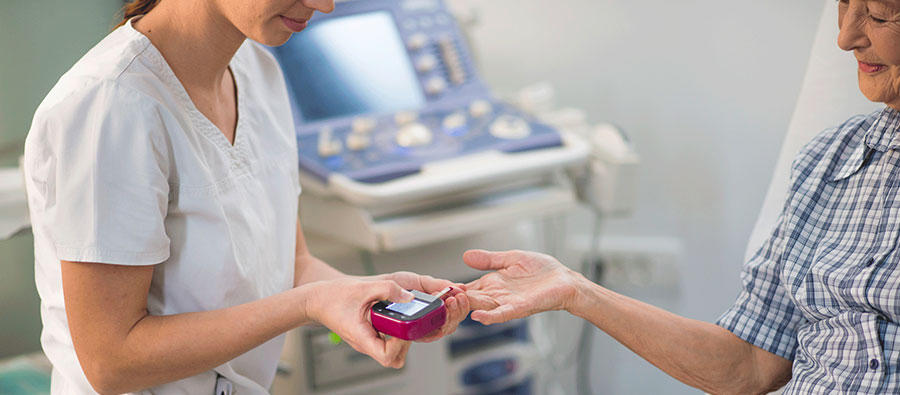 We are here to help you find what you need.
The Steward® Diabetes Care Program provides comprehensive education and support for patients and their families at Holy Family Hospital's Methuen and Haverhill locations.
Endocrinology Diabetes Treatment Center at Holy Family Hospital
From diet and exercise information to medication and glucose monitoring, Holy Family's trained health professionals partner with participants to help them learn to self-manage their diabetes and decrease the risk of future complications.
Nationally recognized by the American Diabetes Association, the Steward Diabetes Care Program provides participants and their families with:
Individualized assessment by a certified diabetes educator
Instruction in self blood glucose monitoring and insulin administration
Nutrition assessment and recommendations by a registered dietitian/certified diabetes educator
Small group or individual classes that cover such topics as:

Problem solving
Food preparation
Dining out
Travel planning
The emotional component of living with diabetes
Activity and medication in glucose control
Healthy eating

Follow-up telephone call and office visits
Individualized nutrition and nurse consultations
Monthly diabetes education and support groups
Resources
Preventing Diabetes Complications Begins With Care

"Our Diabetes Education Program empowers patients to manage their diabetes by teaching them skills and providing the support they need to manage their diabetes in ways that meets their individual lifestyles." Beth Cronin, MS, RD, LND, CDE, Coordinator of Steward Diabetes Care Program

Care For The Whole Person In Diabetes Treatment

"Endocrinology involves caring for not only the disease, but the person. With the right medical education and guidance, most diabetic patients can learn to understand their diabetes well enough to manage it themselves and reduce its complications." Endocrinologist, Neil Ravin, MD

Preventing and Caring For Wounds For Patients With Diabetes

Daily inspection of skin is key in preventing wounds that won't heal. Many patients at the center discover their wounds, which resisted healing after months and even years of traditional treatment, finally heal.