Holy Family Hospital Welcomes Boston Interventional Pulmonologist to the Medical Staff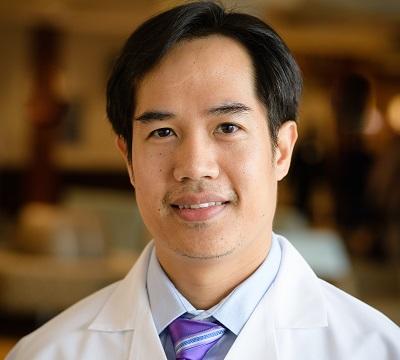 Holy Family Hospital is pleased to welcome Steward Medical Group Interventional Pulmonologist Danai Khemasuwan, MD, MBA to the medical staff.
Dr. Khemasuwan, an Interventional Pulmonologist at St. Elizabeth's Medical Center in Boston, is now seeing patients on Wednesdays in The Center for Advanced Thoracic and Pulmonary Care on Holy Family Hospital's Methuen campus. Patient appointments will be in the morning and interventional procedures will be scheduled in the afternoon. 
Dr. Khemasuwan, who is fluent in English and Thai, earned his medical degree at Chulalongkorn University in Thailand and then completed a residency in internal medicine at Ratchaburi General Hospital in Thailand. His second residency in internal medicine was completed at Albert Einstein Medical Center in Philadelphia, PA.
Dr. Khemasuwan continued medical training with a fellowship in pulmonary and critical care medicine at Cleveland Clinic in Cleveland, OH, and a second fellowship in interventional pulmonary medicine at Henry Ford Health Care System in Detroit, MI.
Dr. Khemasuwan's post graduate training also included a Master of Business Administration in Healthcare Sector Management from Temple University in Philadelphia.
Board certified in internal, pulmonary and critical care medicine, his special interests include endobronchial ultrasound, navigational bronchoscopy, rigid bronchoscopy, ablation, stent placement, bronchial thermoplasty, bronchial valve placement, cryobiopsy, pleuroscopy, and indwelling pleural catheter placement.
"At The Center for Advanced Thoracic and Pulmonary Care at Holy Family Hospital I have the opportunity to serve patients in the Merrimack Valley and southern New Hampshire Region," says Dr. Khemasuwan.  "I look forward to working with renowned Thoracic Surgeon Dr. John Wain in the center, and to providing advanced pulmonary care for patients in their own community, close to home."
Dr. Khemasuwan's Boston office schedules his Methuen appointments. For more information or to schedule an appointment, please call his Boston office at (617) 789-2545.
Holy Family Hospital's Center for Advanced Thoracic and Pulmonary Care is in Suite G39 at 70 East St. in Methuen, MA.