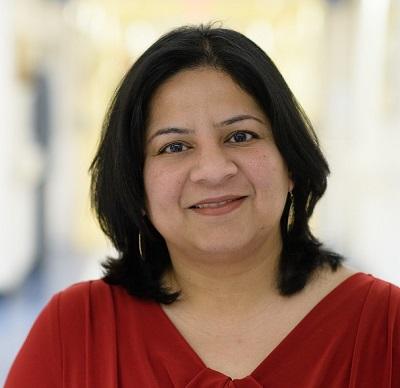 Holy Family Hospital is pleased to welcome Steward Medical Group Obstetrician Shilpa Monga, MD, FACOG.
Dr. Monga, who is Board Certified in Obstetrics and Gynecology and a Fellow of the American College of Obstetrics and Gynecology, has joined the Steward Medical Group Women's Health team that includes Michele Johnson, MD, Fernando Romero, MD, Shruti Biyani, MD and Christannah Waters, MD.
Dr. Monga will be seeing patients at SMG Women's Health Methuen located at 60 East Street and Steward Primary Care and Women's Health of Haverhill, located at 62 Brown Street.
Dr. Monga's special interests include preventive care, adolescent gynecology, contraception, antenatal and postnatal pregnancy care, and gynecological surgery including minimally invasive procedures.
"I am pleased to be part of Steward Medical Group Women's Health Team where I have joined practice with outstanding physicians," says Dr. Monga. "I look forward to serving patients in Merrimack Valley and southern New Hampshire."
Dr. Monga earned her medical degree at Lady Hardinge Medical College at University of Delhi in India, and then completed specialty training in obstetrics and gynecology at Vardhaman Mahavir Medical College and Safdarjung Hospital at University of Delhi.  
After working in obstetrics and gynecology research at St. Luke's Roosevelt Hospital at Columbia University, Dr. Monga completed her residency in obstetrics and gynecology at New York Downtown Hospital and Cornell University, where she also served as chief resident.
Dr. Monga is fluent in English and Hindi and is a member of the American Society of Obstetrics and Gynecology, as well as the Delhi Medical Council and the Medical Council of India.
For more information or to make an appointment, please call 978-685-9440 for her Methuen office and 978-478-5058 for Haverhill.