Urologist to Discuss Kidney Stones During December Senior Lunch at Holy Family Hospital-Haverhill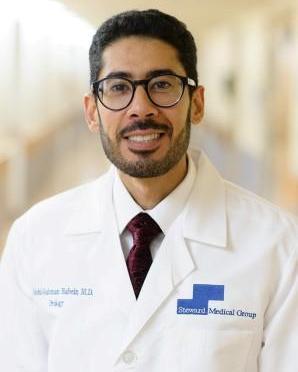 Urologist Abdulrahman Babeir, MD will talk about kidney stones during Senior Lunch at Holy Family Hospital-Haverhill on Tuesday, December 5, 2017.
During the luncheon, Dr. Babeir will talk about the causes of kidney stones, symptoms, and available treatment options.
Dr. Babeir earned his medical degree at King Saud University College of Medicine in Saudi Arabia, and his residency at King Abdulaziz Medical City in Saudi Arabia, and then completed fellowships in urology and urologic surgery at St. Elizabeth's Medical Center in Boston, MA.  His special interests include urinary stones, BPH, genitourinary malignancy, and robotic and laparoscopic surgery. He is fluent in English as well as Arabic.
The luncheon presentation will be held in hospital's first-floor auditorium from 1 to 2 p.m. The cost of $5 includes a full dinner and the presentation. The menu is garden salad, herb chicken with gravy, mashed potatoes, glazed carrots, dinner rolls, dessert, coffee, tea and water.
Holy Family Hospital in Haverhill is located at 140 Lincoln Avenue in Haverhill, MA.
Registration is required. To register, please call Jean MacDougall-Tattan at 978-420-1168 or email [email protected].