Holy Family Hospital Earns "A" Hospital Safety Grade from Healthcare Industry Watchdog The Leapfrog Group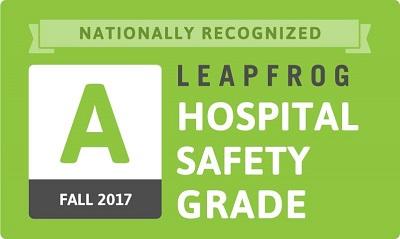 Holy Family Hospital has earned an "A" Hospital Safety Grade for Fall 2017 from the nationally recognized Leapfrog Group, an independent healthcare industry watchdog.
The Leapfrog Group's Safety Grade gives health care consumers guidance about the safety of general acute-care hospitals, so they have the information they need when choosing a hospital for care. The Safety Grade represents a hospital's overall capacity to keep patients safe from preventable harm and medical errors.
For nearly 20 years Leapfrog has collected, analyzed, and published hospital quality and safety data.  
"Attaining an A Hospital Safety Grade is a tremendous achievement, as well as a testament and reflection of our commitment to the delivery of high-quality care and the protection of our patients," says Holy Family Hospital President Craig Jesiolowski, FACHE. 
Developed under the guidance of a Blue Ribbon National Expert Panel, the Leapfrog Hospital Safety Grade uses 27 measures of publicly available hospital safety data to assign A, B, C, D and F grades to more than 2,600 U.S. hospitals twice per year. It is calculated by top patient safety experts, peer reviewed, fully transparent and free to the public.
Holy Family Hospital was one of 832 awarded an "A" for its commitment to keeping patients safe, and meeting the highest safety standards in the United States.
"It takes consistent, unwavering dedication to patients to achieve the highest standards of patient safety.  An 'A' Safety Grade recognizes hospitals for this accomplishment," said Leah Binder, president and CEO of The Leapfrog Group. "We congratulate the clinicians, Board, management and staff of Holy Family Hospital for showing the country what it means to put patient safety first."  
The Leapfrog Group grades hospitals on many things related to patient safety, including prevention of medication errors through electronic order entry, full-time intensivist coverage in the Intensive Care Unit, steps to avoid harm, reduction of pressure ulcers, reduction of hospital harm, management of serious errors, reduction of Intensive Care Unit infections, hospital infection rates, complication rates, mortality rates, and patient readmission rates.
"Patient safety is of utmost importance. It's the reason why we continually raise the bar to improve patient care, and why we strive to hire the most qualified health care professionals possible.  Excellent training and attention to detail make a difference," says John Alexander, MD, Holy Family Hospital's Chief Medical Officer and Vice President of Medical Affairs, Quality and Safety. 
About The Leapfrog Group 
Founded in 2000 by large employers and other purchasers, The Leapfrog Group is a national nonprofit organization driving a movement for giant leaps forward in the quality and safety of American health care. The flagship Leapfrog Hospital Survey collects and transparently reports hospital performance, empowering purchasers to find the highest-value care and giving consumers the lifesaving information they need to make informed decisions. The Leapfrog Hospital Safety Grade, Leapfrog's other main initiative, assigns letter grades to hospitals based on their record of patient safety, helping consumers protect themselves and their families from errors, injuries, accidents, and infections.  
About Holy Family Hospital 
Holy Family Hospital is a 385-bed acute-care hospital with three campuses: Holy Family Hospital – Methuen, Holy Family Hospital- Haverhill and Andover Surgery Center. Both full-service hospital locations provide comprehensive inpatient, outpatient and 24/7 emergency services to the greater Merrimack Valley and southern New Hampshire. Holy Family Hospital is the proud recipient of the Gold Seal of Approval from The Joint Commission and the Leapfrog Group's "A" Hospital Safety Grade for performance on national standards of safety, quality and efficiency. Holy Family Hospital is the first hospital in Massachusetts to earn Advanced Certification in Hip and Knee Replacement Surgery by The Joint Commission, the premier health care quality improvement and accrediting body in the nation. Holy Family Hospital is Nationally Recognized by BlueCross BlueShield of Massachusetts as a Blue Distinction Center® Plus for excellence in hip and knee replacements and as a Blue Distinction Center® for Spine Surgery. The hospital's strengths include orthopedic care, cancer care, neurology/neurosurgery, general surgery, thoracic and pulmonary care, wound care and hyperbaric medicine, maternity care, and behavioral medicine.  Holy Family Hospital is part of Steward Health Care, a fully integrated national health care services organization committed to providing the highest quality of care in the communities where our patients live. Steward operates 36 community hospitals in ten states that employ approximately 37,000 people and regularly receives top awards for quality and safety. The Steward network includes more than 26 urgent care centers, 42 preferred skilled nursing facilities, substantial behavioral health services, over 7,300 beds under management, and more than 1.1 million covered lives through the company's managed care and health insurance services.