Holy Family Hospital Cardiac Rehabilitation Program Earns Recertification from Industry Leader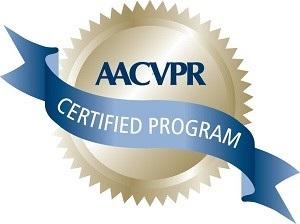 Holy Family Hospital is proud to announce that its Cardiac Rehabilitation Program has been recertified by the American Association of Cardiovascular and Pulmonary Rehabilitation (AACVPR), and recognized for its commitment to improving its patients' quality of life by enhancing standards of care.
Cardiovascular rehabilitation programs are designed to help people with cardiovascular problems recover faster and improve their quality of life. Cardiac Rehabilitation Programs include exercise, education, counseling, and support for patients and their families.
"We are committed to the individual recovery of each and every patient we care for," says Stephanie B. DiCenso MS, RCEP, CCRP, coordinator of the Cardiac Rehabilitation Department at Holy Family Hospital." Our goal is to help patients successfully adopt a heart-healthy lifestyle, which can reduce their risk of future cardiac events and improve overall quality of life."
AACVPR-certified programs are recognized as leaders in the field because they offer the most advanced practices available. 
"Cardiac rehabilitation is a vital component of Holy Family Hospital's Heart Disease Care and Management Programs.  It is a medically supervised program and team effort to help people faced with heart disease take control of their lives to improve their overall heart health," says Holy Family Hospital Vice President of Strategic and Business Development Wayne Dodwell, FACHE.  "Our services provide supervised exercise regimens, education to minimize risk factors and maximize heart-healthy life styles, and coaching to help reduce stress - which adversely affects heart health.  Our cardiac rehab team makes sure patients don't have to face heart disease alone by partnering with patients, as well as their doctors, family and friends in order to provide a support network that promotes optimum heart health for our patients."
In order to be recertified, Holy Family Hospital's Cardiac Rehabilitation Program participated in an application process that required extensive documentation of the program's practices.
 AACVPR Program Certification is the only peer-review accreditation process designed to review individual programs for adherence to standards and guidelines developed and published by AACVPR and other professional societies. 
Each program is reviewed by the AACVPR Program Certification Committee, and Certification is awarded by the AACVPR Board of Directors. AACVPR Program Certification is valid for three years.
About AACVPR 
Founded in 1985, the American Association of Cardiovascular and Pulmonary Rehabilitation is a multidisciplinary organization dedicated to the mission of reducing morbidity, mortality and disability from cardiovascular and pulmonary disease through education, prevention, rehabilitation, research and disease management. Central to the core mission is improvement in quality of life for patients and their families.
About Holy Family Hospital 
Holy Family Hospital is a 385-bed acute-care hospital with three campuses: Holy Family Hospital – Methuen, Holy Family Hospital- Haverhill and Andover Surgery Center. Both full-service hospital locations provide comprehensive inpatient, outpatient and 24/7 emergency services to the greater Merrimack Valley and southern New Hampshire. Holy Family Hospital is the proud recipient of the Gold Seal of Approval from The Joint Commission for performance on national standards of safety, quality and efficiency. Holy Family Hospital is the first hospital in Massachusetts to earn Advanced Certification in Hip and Knee Replacement Surgery by The Joint Commission, the premier health care quality improvement and accrediting body in the nation. Holy Family Hospital is Nationally Recognized by BlueCross BlueShield of Massachusetts as a Blue Distinction Center® Plus for excellence in hip and knee replacements and as a Blue Distinction Center® for Spine Surgery. The hospital's strengths include orthopedic care, cancer care, neurology/neurosurgery, general surgery, thoracic and pulmonary care, wound care and hyperbaric medicine, maternity care, and behavioral medicine.  Holy Family Hospital is part of Steward Health Care, a fully integrated national health care services organization committed to providing the highest quality of care in the communities where our patients live. Steward owns and operates 18 community hospitals across four states, serves over 800 communities, and has more than 23,000 employees. The Steward network includes more than 25 urgent care centers, 42 preferred skilled nursing facilities, substantial behavioral health offerings, and more than 3,700 beds under management.