Indian Cooking Class at Holy Family Hospital Will Blend Healthy Ingredients for Delicious Result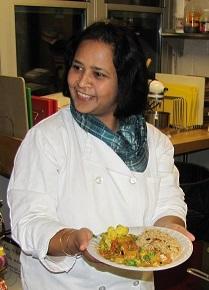 Shilpi Ranjan, owner and instructor of EZCompliments Indian cooking classes, will be the guest chef and speaker at Holy Family Hospital's 'Good Eating: Indian Food' event on Tuesday, September 19, 2017 from 6:00 p.m. to 7:30 p.m., at Holy Family Hospital in Methuen, located at  70 East St., in the ground-floor auditorium.
Ranjan—a passionate cook, educator, wife, and mother—will be cooking with lentils and a hint of traditional Indian spices in the dishes she prepares.  "Delicious Indian cuisine does not necessarily have overpowering spices," says Ranjan.  "I believe in adapting spice levels when cooking.  You want the end result to please the most discriminating palate."
Known for her warmth and humor, Ranjan has been teaching Indian cooking in the Greater Boston area since 2009, receiving praise from students and patrons alike.  
"Shilpi brings lots of excitement and energy to the cooking experience," says Beth Cronin, MS, RD, CDE, LDN, local coordinator for the Steward Diabetes Program at Holy Family Hospital in Methuen and Haverhill.  "Her lentils class at Holy Family Hospital will offer balanced Indian dishes that are easy, flavorful, and diabetes-friendly."
Lentils are nutritious, rich in fiber, a good source of protein, and they readily absorb a variety of flavors from seasonings. Compared to other types of dried beans, lentils are easy to prepare and are available throughout the year.  
To sign up, please call Karen Kennedy at (978) 687-0156, ext. 2007 by Tuesday, September 12.
 
About Holy Family Hospital 
Holy Family Hospital is a 385-bed acute-care hospital with three campuses: Holy Family Hospital – Methuen, Holy Family Hospital- Haverhill and Andover Surgery Center. Both full-service hospital locations provide comprehensive inpatient, outpatient and 24/7 emergency services to the greater Merrimack Valley and southern New Hampshire. Holy Family Hospital is the proud recipient of the Gold Seal of Approval from The Joint Commission for performance on national standards of safety, quality and efficiency. Holy Family Hospital is the first hospital in Massachusetts to earn Advanced Certification in Hip and Knee Replacement Surgery by The Joint Commission, the premier health care quality improvement and accrediting body in the nation. Holy Family Hospital is Nationally Recognized by BlueCross BlueShield of Massachusetts as a Blue Distinction Center® Plus for excellence in hip and knee replacements and as a Blue Distinction Center® for Spine Surgery. The hospital's strengths include orthopedic care, cancer care, neurology/neurosurgery, general surgery, thoracic and pulmonary care, wound care and hyperbaric medicine, maternity care, and behavioral medicine.  Holy Family Hospital is part of Steward Health Care, a fully integrated national health care services organization committed to providing the highest quality of care in the communities where our patients live. Steward owns and operates 18 community hospitals across four states, serves over 800 communities, and has more than 23,000 employees. The Steward network includes more than 25 urgent care centers, 42 preferred skilled nursing facilities, substantial behavioral health offerings, and more than 3,700 beds under management.