September Senior Supper at Holy Family Hospital in Methuen Will Be on Achieving Good Overall Health
August 3 2017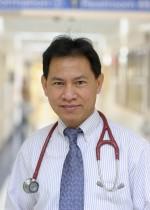 Primary Care Physician Sokharith Mey, MD will talk about how to achieve and maintain optimal health during Senior Supper at Holy Family Hospital in Methuen on September 13, 2017.
Dr. Mey, a board certified Family Practice physician, will offer tips about the best ways to achieve optimal health, and once achieved, how to maintain it. 
Dr. Mey earned his medical degree at Saba University School of Medicine, and then completed his residency in Family Practice at Guthrie Robert Parker Hospital in Sayre, Pennsylvania. Dr. Mey's special interests are preventive medicine, chronic disease management, and men's and women's health.  Dr. Mey is fluent in English and Cambodian.
Senior Supper will be held in the hospital's ground-floor auditorium from 3:30 to 4:30 p.m. The cost of $5 includes a full dinner and the presentation. 
Holy Family Hospital in Methuen is located at 70 East Street in Methuen, MA. Registration is required. To register, please call Karen at 978-687-0156, ext. 2007 or email
[email protected]