Holy Family Hospital Orthopedic Spine Surgeon Offers Free Seminar on Solutions for Back Pain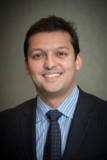 Holy Family Hospital Orthopedic Spine Surgeon Nikhil Thakur, MD will talk about new ways to help those suffering with back pain during a free seminar at Holy Family Hospital in Haverhill on Tuesday, January 3, 2017.
During his presentation, titled "Spine Issues – What Ails Our Patients," Dr. Thakur will describe common complaints associated with spine issues, identify the various conditions that cause them, and review the non-surgical and surgical options available. The seminar is from 6-7 p.m. in the hospital's first-floor auditorium.
Dr. Thakur earned his medical degree at Dartmouth Medical School, and then completed his internship and residency in orthopedic surgery, and fellowship in orthopedic trauma surgery, at The Warren Alpert Medical School of Brown University in Rhode Island. He then completed a second fellowship in orthopedic spine surgery at the Emory University Spine Center in Georgia. Dr. Thakur is Board Certified in  Orthopedic Spine Surgery and Othopedic Truama Surgery.
This presentation is part of the Meet the Expert series of seminars held monthly throughout the year. Seminars are free and open to the public. Light refreshments are served, and registration is required. Nurses in attendance are awarded one continuing education credit at the end of the presentation.
The Holy Family Hospital Haverhill campus is located at 140 Lincoln Avenue in Haverhill, MA.  For more information or to register, please email
[email protected]
or call Jean at 978.420.1168.
*This program meets the criteria for Continuing Education in Nursing in Massachusetts pursuant to 244 CMR 5.04, The Board of Registration in Nursing Rules and Regulations.