World-Renowned Thoracic Surgeon John C. Wain, MD Joins Holy Family Hospital's Medical Staff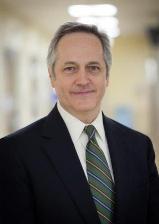 Holy Family Hospital is pleased to announce that world-renowned Thoracic Surgeon John C. Wain, MD has joined the medical staff and will be holding clinic hours and performing surgery on the Methuen campus. 
Dr. Wain, who had been on the faculty of Massachusetts General Hospital (MGH) and the faculty of Harvard Medical School for more than 20 years prior to joining Steward Medical Group, was the surgical founder of lung transplantation at MGH where he was the first surgeon in New England to perform living related lung transplantation. 
Dr. Wain is well versed in video assisted thoracic surgery (VATS) having begun MGH's program in VATS. He is also a world renowned airway surgeon having practiced alongside
Dr. Hermes Grillo (regarded as the pioneer in this field) for years and was even the first surgeon on the east coast to use aortic homografts for the treatment of tracheal stenosis.
Dr. Wain is Division Chief of Thoracic Surgery at St. Elizabeth's Medical Center, Holy Family Hospital's sister hospital in Boston. He earned his medical degree at Jefferson Medical College in Philadelphia, PA and then completed his Residency and Fellowship in thoracic surgery at Massachusetts General Hospital. Board Certified by the American Board of Thoracic Surgery, he has particular expertise in minimally invasive thoracic surgical techniques, and special interests in lung and esophageal cancer, airway and larynx surgery, thymoma and mediastinal tumors, mesothelioma, sarcoma, chest wall tumors, emphysema, and interstitial lung disease.
In the Department of Thoracic Surgery at St. Elizabeth's Medical Center, Dr. Wain provides expert diagnosis and treatment for conditions of the chest, lungs, esophagus, and intestinal tract with advanced surgical procedures and innovative treatments, including minimally invasive video-assisted thoracic surgery, and minimally invasive management of conditions such as GERD, hiatal hernia, and esophageal and airway conditions caused by tumors, stricture or stenosis of the larynx and trachea, or collapsing of the trachea and bronchus.
"St. Elizabeth's Medical Center in Boston is privileged to have a highly trained thoracic surgeon such as Dr. Wain, and now, so is Holy Family Hospital. We are proud that Dr. Wain's expertise and skills will now be available to residents in the communities Holy Family Hospital serves," says hospital President Craig Jesiolowski.
Dr. Wain will see patients at Holy Family Hospital, 70 East St., Suite G39 in Methuen on the second and fourth Wednesday of the month, and surgeries will be performed at Holy Family Hospital. He is fluent in Spanish and accepting new patients.
"I am pleased to have the opportunity to help patients in the Merrimack Valley and southern New Hampshire, where there is a need for a thoracic specialist," says Dr. Wain. "I will be able to provide a full spectrum of care for patients, from diagnostic exams to complex surgical procedures, right in their own community and close to home."
Dr. Wain's Boston office will schedule his Methuen appointments. To schedule an appointment, please call 617-779-6382.