Holy Family Hospital Offers Free Seminar on the Causes and Treatments of Pain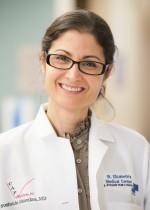 Pain Specialists Stephanie Gianoukos, MD and Arvind Murthy, MD will talk about various causes and treatments for pain during free seminar at Holy Family Hospital in Methuen on October 27, 2016.
During their talk titled The Essentials of Pain Management, Dr. Gianoukos and Dr. Murthy will identify various types of pain, describe the effects of pain on the body, explain how pain is assessed and treated, and explore the goals of pain management in a hospital-based pain center.
This presentation will be held in the hospital's ground-floor auditorium from 6 to 7 p.m.  Light refreshments will be served. Registration is required.
Holy Family Hospital in Methuen is located at 70 East Street, Methuen, MA. To register, please call our DoctorFinder™ line at 1-800-488-5959.