Holy Family Hospital to Offer Free Seminar on Advances in Hip and Knee Replacement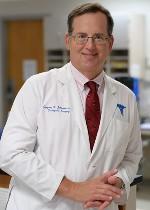 Learn the latest information about partial and total knee replacement and total hip replacement at Holy Family Hospital in Methuen on Tuesday, April 24, 2018, 6-7 p.m. when Orthopedic Surgeon Gregory K. Johnson, MD talks about knee and hip joint restoration with Mako™ robotic surgery and cementless bone ingrowth options.
Dr. Johnson will describe why cementless is usual best in joint replacement, define indications for major joint replacement, with Mako™ or other techniques, and identify trends in same day and short stay joint replacement.The free seminar will be in the Methuen campus ground floor auditorium.
The presentation is part of the Meet the Expert series of seminars held monthly throughout the year at Holy Family Hospital, which are free and open to the public. Light refreshments are served and registration is required. Nurses in attendance are awarded one contact hour in nursing at the end of the presentation.
Holy Family Hospital's Methuen campus is located at 70 East St. in Methuen, MA. For more information
or to register, please email [email protected], or call Jean at 978-420-1168.