Colorectal Surgeon to Talk About Prevention and Treatment of Colorectal Cancer at Holy Family Hospital - Haverhill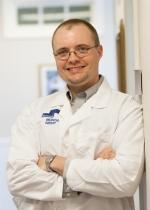 Holy Family Hospital Colorectal Surgeon Romie Mundy, MD will take a case-based look at the prevention and treatment of colorectal cancer during a free seminar at Holy Family Hospital in Haverhill on Tuesday, March 6, 2018.
During his presentation, Dr. Mundy will describe the difference between low and high risk individuals requiring screening, identify the different screening modalities, describe the stages of colorectal cancer, define the role of surgery and medical therapy in treatment, and identify recommended follow-up care as well as the expected outcome based on the stage of the cancer.
The presentation is part of the Meet the Expert series of seminars held monthly throughout the year. Seminars are free and open to the public. Light refreshments are served, and registration is required. Nurses in attendance are awarded one continuing education credit at the end of the presentation.
The seminar is from 6-7 p.m. in the hospital's first-floor auditorium. The Holy Family Hospital Haverhill campus is located at 140 Lincoln Avenue in Haverhill, MA.  For more information email [email protected] or call Jean at 978.420.1168.
 *This program meets the criteria for Continuing Education in Nursing in Massachusetts pursuant to 244 CMR 5.04, The Board of Registration in Nursing Rules and Regulations.
About Holy Family Hospital
Holy Family Hospital is one of only 44 hospitals nationwide to earn the 2017 Top General Hospital Award from The Leapfrog Group, and is the only hospital in the Merrimack Valley and southern New Hampshire to earn this distinction for performance on national standards of quality and safety. Holy Family Hospital is a 385-bed acute-care hospital with three campuses: Holy Family Hospital – Methuen, Holy Family Hospital- Haverhill and Andover Surgery Center. Both full-service hospital locations provide comprehensive inpatient, outpatient and 24/7 emergency services to the greater Merrimack Valley and southern New Hampshire. Holy Family Hospital, the proud recipient of the Gold Seal of Approval from The Joint Commission and the Leapfrog Group "A" Hospital Safety Grade, is the first hospital in Massachusetts to earn Advanced Certification in Hip and Knee Replacement Surgery by The Joint Commission, and is Nationally Recognized by BlueCross BlueShield of Massachusetts as a Blue Distinction Center® Plus for excellence in hip and knee replacements and as a Blue Distinction Center® for Spine Surgery. Our Wound Care & Hyperbaric Center has been named a Center of Excellence six years in a row by Healogics. The hospital's strengths include orthopedic care, cancer care, neurology/neurosurgery, general surgery, thoracic and pulmonary care, urologic surgery, ENT surgery, wound care and hyperbaric medicine, maternity care, and behavioral medicine.  Holy Family Hospital is part of Steward Health Care, a fully integrated national health care services organization committed to providing the highest quality of care in the communities where our patients live. Steward operates 36 community hospitals in ten states that employ approximately 37,000 people and regularly receives top awards for quality and safety. The Steward network includes more than 26 urgent care centers, 42 preferred skilled nursing facilities, substantial behavioral health services, over 7,300 beds under management, and more than 1.1 million covered lives through the company's managed care and health insurance services.
# # #