Meet Holy Family Hospital President Craig Jesiolowski, FACHE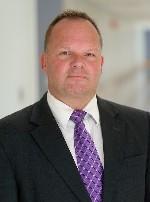 How long have you worked for Steward Health Care?
I've worked for Steward Health Care for almost 7 years serving as the president for Saint Anne's Hospital in Fall River.
I see you have the acronym FACHE after your name. What does it stand for?
It stands for Fellow of the American College of Healthcare Executives. It signifies expertise, experience and commitment to continuing education and professional development.
What is your management philosophy?
My management philosophy is quite simple. The three most important elements to me are integrity/honesty, loyalty, and execution. 
What is your first priority as a hospital president?
My priority is the delivery of high quality care, the safety of patients, and making sure our patients and physicians have the best possible experience. That is why I am very excited that Holy Family Hospital recently learned it is the first hospital in Massachusetts to earn Advanced Certification in Hip and Knee Surgery from the Joint Commission, the premier health care quality improvement and accrediting body in the nation. This award demonstrates Holy Family Hospital's commitment to the continued improvement of patient care and patient safety for the increasing number of patients undergoing total hip or total knee replacement surgery.
How closely do you work with physicians?
I work very closely with physicians. Our entire hospital staff plays a vital role in the delivery of high quality care and the safety of our patients, and that includes our medical staff.  Physicians play a large role in the quality of care delivered at Holy Family Hospital. I want to help them continue to feel vested in our hospital, and know that their thoughts and ideas are important.
Did you use this model at Saint Anne's in Fall River?
Yes, this philosophy was adopted at Saint Anne's hospital seven years ago when I arrived, leading to tremendous growth and prosperity in every aspect of the organization.  I hope to accomplish the same thing here at Holy Family Hospital.  
What is the character trait you most value?
Humility. Through humility we will strive to earn the respect and trust of our medical staff, our patients, and the community - never expecting their business or loyalty, but instead earning and appreciating every physician and patient that comes our way.
As a hospital leader, what would you cite as an important goal?
 Quality of care and safety are my top priorities. Part of this goal is building on the organizational culture, because a happy work force translates to highly satisfied patients and visitors.  My goal is to further foster a very responsive management team and to become the "provider of choice" in the greater Methuen and Haverhill area.  
Can you give an example of how to build an effective team?
It's important to consistently thank those who help us achieve our goals because we can only achieve goals with the help of our dedicated healthcare professionals and our medical staff - they are integral partners.  It's also important to celebrate successes along the way in small but meaningful ways.
Do you take time to know the whole medical staff?
 I want to meet all members of the staff and the medical staff, and learn from them. They work at Holy Family Hospital or with Holy Family Hospital every day so they know where we do exceptionally well, and where we can improve. If we communicate and collaborate effectively, we can grow together. 
Can you tell us a little about your family?
My wife, Stephanie, and I have four children. Our two sons are at Maine Maritime Academy in the engineering program. One of our daughters is at the University of Maine, and our oldest daughter is at University of Maine earning  her master's degree. We have one granddaughter in grade school.
Do you have pets?
We have two Alaskan Malamutes, and two cats which we somehow ended up adopting along the way.